While implementing a no-cost ("ZTC") mark has been a challenge at many colleges, at others a secondary challenge may follow. When a student attempts to access textbook information, are they able to obtain accurate information? Further complicating this issue is the fact that it may be unclear how to ensure that students who have access to textbook funds can use those funds to purchase a print copy, if desired. In some instances, faculty have resorted to privately countering misleading information in order to ensure that students who have textbook funds can use them. Below are good – and bad – examples from schedules that have been organized by the company running the bookstore. Typically, when text information appears in a course schedule, that information is provided by the bookstore. This page is organized by bookstore vendor.
All images on this page are screen shots that have been explained fully in the narrative provided.
Barnes and Noble at Antelope Valley College
At Antelope Valley, a link to text information is found in the schedule at the far right of the schedule when the student clicks on "Book Info". The colleges "mark" for no cost sections ($0) is in a column titled "ZCT" and readily visible.

The information provided for some sections using OER makes it appear that no text is required as the "Book Info" states "No Course Materials Required. This course requires no purchased materials." and no additional information is provided.

The only time reference to a specific OER was found during a limited review was when that OER was available for purchase. The student is presented with two purchase options, new and used. And there is a note at the bottom of the entry stating "Please Note: A free ebook version of this title is available at https://openstax.org", providing the student with a nonspecific link. Xanedu is listed as the book's publisher. Note that the OpenStax site requires the student to know where the course would be housed (e.g., sociology is in social sciences, history is in humanities).

Barnes and Noble at Butte College
As of December 14, 2021, the Butte College bookstore is providing no textbook information via the provided link. But textbook costs are made available via the "Section Details", when the text has an ISBN. In the event that there is an ISBN, a section titled "Book Details" is included that provides the ISBN, Title, Author, and New Price. In the example below, OpenStax Psychology is being used – with the new price as $0.00.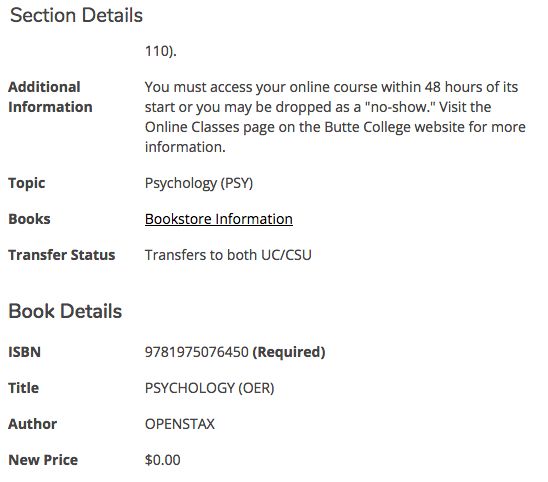 Barnes and Noble at Cabrillo College
As of December 14, 2021, the Cabrillo bookstore is providing textbook information via the link (Bookstore Information) provided in the section details.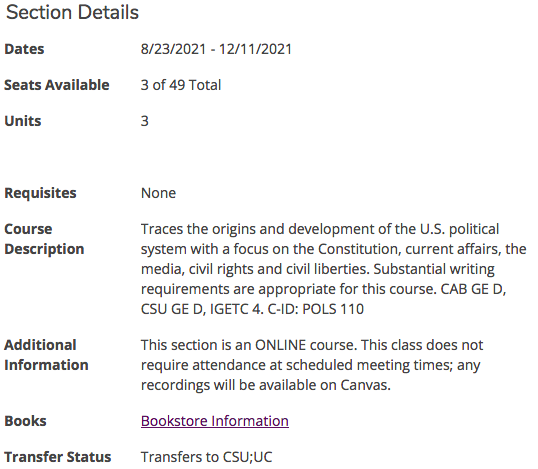 Similar to what was observed at Butte, specific details about OER being used appear to only be available when that OER has an ISBN. While it is stated that "Required materials are free and available through your instructor. The printed version is optional", no information as to where the free text can be accessed is provided. The example shows that the OpenStax American Government text (publisher is Xanedu) is available at "up to 14% off the Publisher's List Price." The indicated prices are $55.43 for new or $41.57 for used print. A new print copy, also published by Xanedu, is available through Amazon for $27.36 (not including shipping, which is free with Prime).

Barnes and Noble at Columbia College (Yosemite CCD)
Textbook information – including whether or not a section is ZTC – is provided on the far right side of the section's listing in the online course schedule.

At the time of this review (December 16, 2022), all sections marked ZTC indicated that no text was being used (This course does not require any textbooks) when the "Books" link is accessed.

Barnes and Noble at Cuesta
At Cuesta, a course section appears to be using a resource that students are billed for – and then given the option to "Opt-Out". In addition to the required components that a student is billed for ($77.35 is the price listed in the section's information), there are titles designated as "Wait for Class". It stated that this indicates that "…your faculty member wants to discuss these titles before making a purchase." One of these titles is an "Access Card" which is included in the resources that will be waiting for the student on the first day of class. The other is a print version of the text.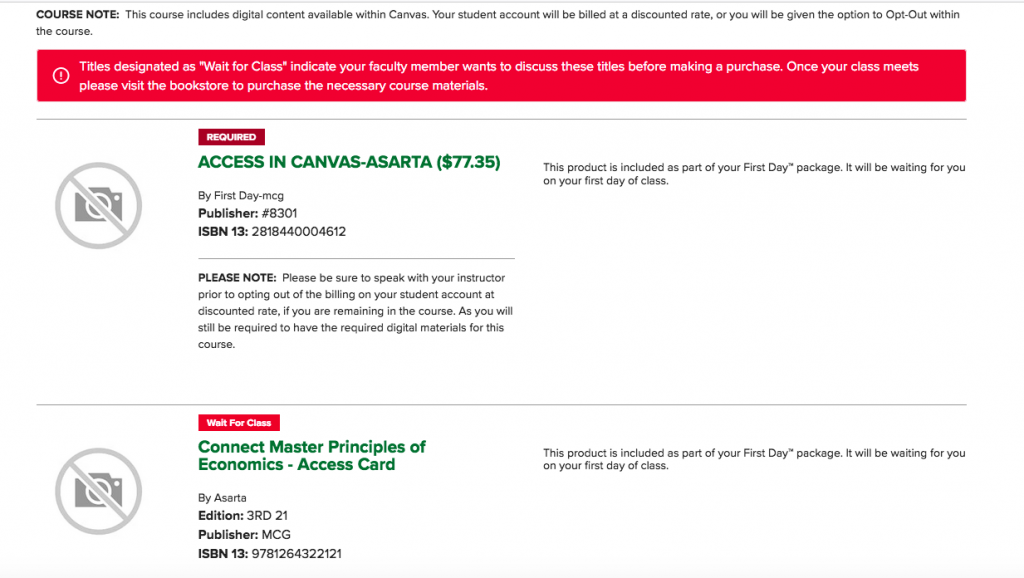 The San Mateo County CCD (Cañada, College of San Mateo, and Skyline), appears to have its own bookstore that is not associated with a vendor. It also appears to have an active "inclusive access" program. It's "Inclusive Access FAQ" page suggests a less than optimal experience for students, as evidenced by the excerpt below that was accessed on December 14, 2021:
I opted out by mistake and realized that I still need my access. Can I opt back in?
Currently there is no way to opt back in.We will consider this option in the future.
I did not opt out, but I did not register my access or use the online platform. Will I still be billed?
Yes. All students who are enrolled in a course using Inclusive Access are automatically considered part of the program. To request a refund, you must opt out by going to: https://smccd-czqfp.formstack.com/forms/canada_inclusive_access_optout and complete the Opt Out Form.
It also appears that students may receive different information about the same text, depending on the instructor. Below is information regarding the text for two different sections of General Psychology. Both are marked ZTC and both are using the OpenStax text. When a student clicks on the course title for a given section, they are provided with section-specific information. In the first example, we see "Textbook: Zero Textbook Cost (ZTC) Course – View textbook and course related items in the bookstore." "View textbook and course related items in the bookstore" is a link that provides additional details.

The additional information provided by the bookstore lists the print versions it is selling, indicating that they are optional. And then a 2nd component of the entry indicated "DIG. FREE,PRINT OPTIONAL" and "SEE PROFESSOR – OER MATERIAL." And no means of accessing the digital resource is provided.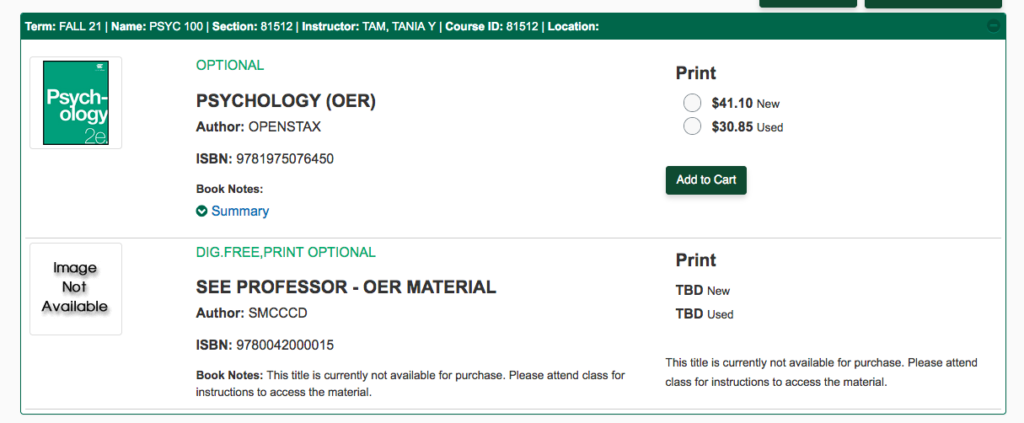 Students who select another no-cost section of the course see the same message as indicated above and then also a reference to a Flat Fee of $74 for the no-cost psychology course they have selected. It has been confirmed that this was a typographical error – one of the many reasons that faculty should take the time to view the public-facing information related to all of their course sections.

Yet another representation of the OER resource discussed above is found at Skyline (another college in the district), where the option to buy the OER is presented to the student with no reference to the free digital option.

Follett at Allan Hancock College
At Allan Hancock, students see a link to "Click to check textbook costs" after clicking on the section's CRN.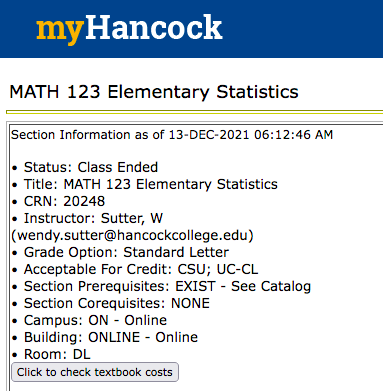 In the college's spring 2022 schedule, it appears that specific OER are only specified when there is a print copy available for purchase. When the student clicks the link to check textbook costs, it is not stated that free OER are being used – it states that "Course Material is OER. Physical book is available." and then provides the option to rent a used book or buy either a used book or a new one. In contrast, when no OER are specified and a section is ZTC, the student sees "Free 'Open Educational Resources' are required for this course. Please see your Instructor."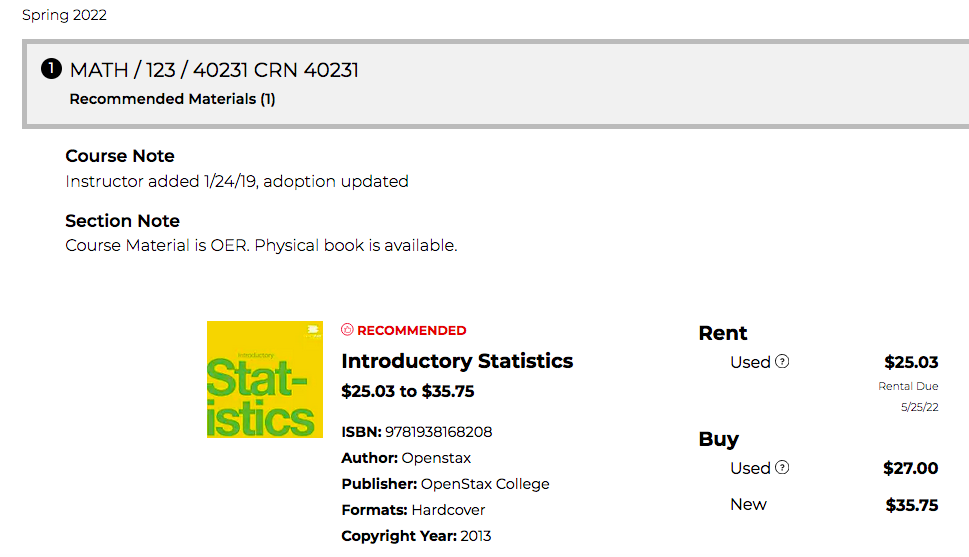 Follett at College of the Desert (WebAdvisor)
At College of the Desert, the schedule anomalies present at other Follett colleges are present – with the use of OER indicated, but no indication of where to find it ("Free "Open Educational Resources" are required for this course. Please see your Instructor"). But it is included here as colleges using similar technology might benefit from how that text information has been included in the schedule. When one accesses the section information for a course, there is a place to provide the text Title, Author, Publisher, Copyright, and so on that is not populated – except the title field states "Please Click Textbook Prices" and just about it is a link to "Textbook Prices" that provides that information.

Follett at Merced
In the Merced Spring 2022 schedule of classes, the presence of "inclusive access" is indicated. In the example below, a resource for a physics course, it is stated that "Cengage Unlimited Merced College" is required, at a cost of $128 an "Adobe Digital Edition". It is then stated that "Above item is part of a program where course materials are included in a course charge or tuition. Contact your campus store for more information." In addition to this required resource, it is also indicated that "Follett ACCESS Credit Hour SKU" is required at a cost of $0.25. The bookstore also recommends another resource for $150. The Merced College Bookstore website provides no further information.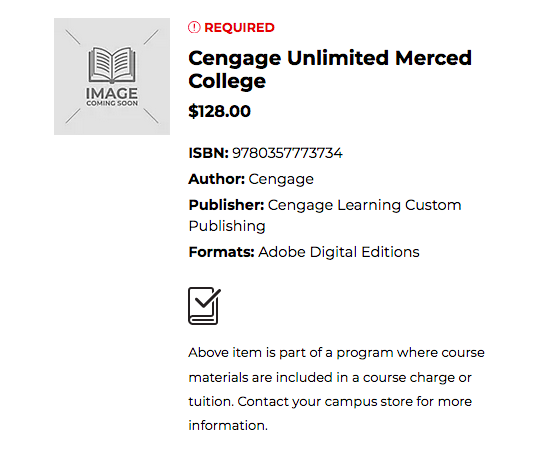 Another example from Merced – where the same note is present about the course materials being a component of the course charge or tuition. In this example, however, a text for introduction to sociology could course $92.10 (used rental), $207.23 (new rental), $172.75 (used purchase), or $230.25 (new purchase).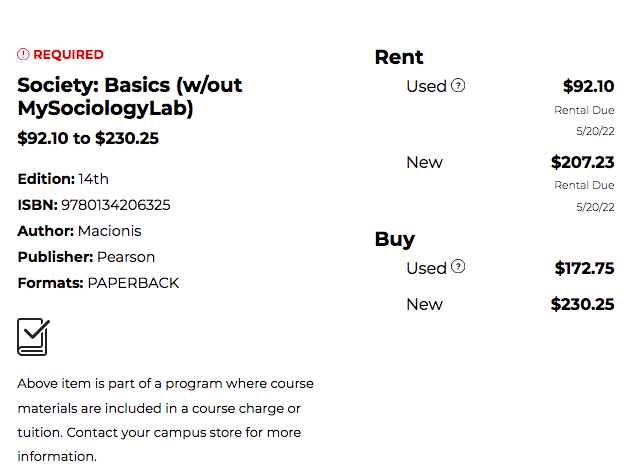 Follett at Ohlone
The following note from the Ohlone schedule of classes is being shared to demonstrate the importance of reviewing the schedule to ensure the accuracy of the provided information. While the bookstore indicates "Course Materials have not been determined. Check back soon for updates.", the course schedule indicates "This class exclusively uses digital course materials that may be free or at a low cost charge and may also have a low cost option for print versions. An Access Code may be required for digital course materials and is available at no cost with the purchase of a textbook. Low cost digital materials provided by McGraw-Hill. ISBN 1-259-91572-7." The ISBN is associated with a commercial text, with a list price of over $200 (according to Amazon).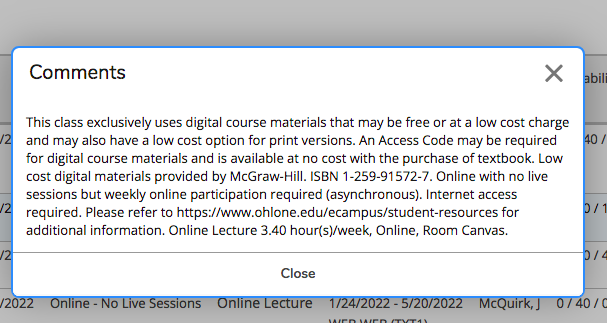 Follett at Rio Hondo College
Rio Hondo's course schedule clearly provides the ZTC logo. Upon clicking on "View Book" in the schedule, the accuracy and completeness of the provided information varies. For some sections, the "View Book" link provides the URL to the OER. In the example below, a OpenStax URL is provided as a "Section Note."
While the above example provides the URL, it does not indicate that OER is being used. Other sections indicate that a free OER is being used, but do not provide a URL for access.

Some sections indicate that free OER are used – and provide an indication of where it can be found.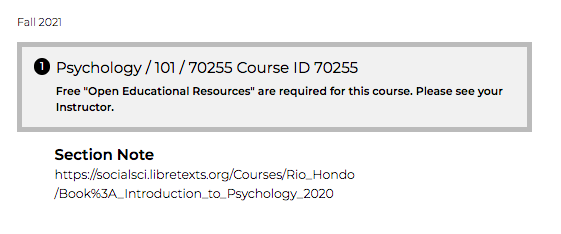 Follett in the San Bernardino Community College District (Crafton Hills and San Bernardino Valley Colleges)
Although no ZTC icon or note appears in the course schedule, the student who takes some time to look through the colleges website will find that all course materials are free to students during the Fall 2021 and Spring 2022 terms. On the SBVC registration site (12-28-21), students see the following below general course schedule information: Books+: Free rental access to textbooks plus course materials for all your Fall 2021 and Spring 2022 semester classes. The "Book" link in the course schedule presents the student with a required digital text with a cost – $66.75 for the economics text in our example below. Below this, in smaller font, it is stated that "Above item is part of a program where course materials are included in a course charge or tuition. Contact your campus store for more information." In other words, the student is both told that they have free access to textbooks and course materials – and then it is suggested that they are somehow paying for such things.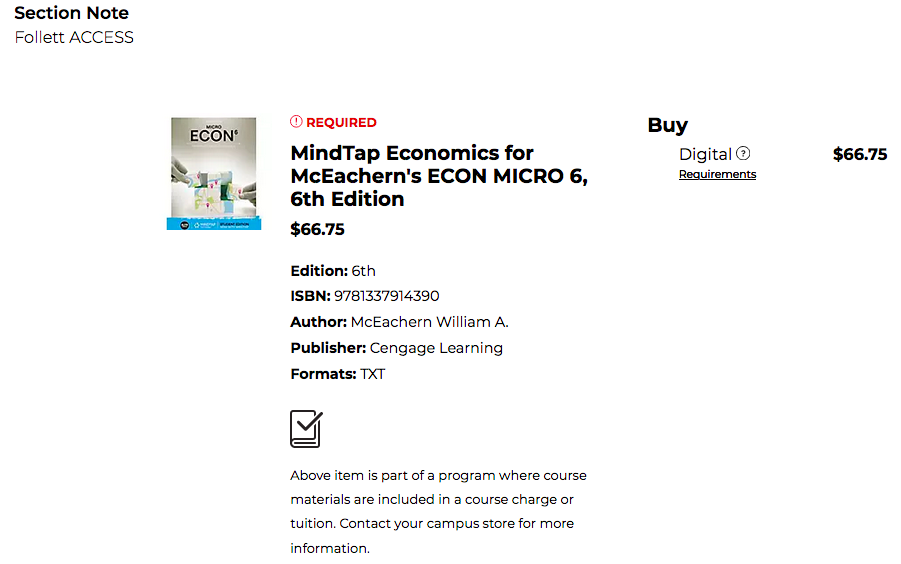 Some sections at SBVC indicate "Free" next to the "Books" link. In the example below, clicking on the information icon next to "Free" yields the message "The textbooks used in these sections are available digitally free of charge and may have a low-cost print option. Students might still be required to purchase supplies." This example is for a section of introduction to sociology – a course commonly taught using OER.

At Crafton Hills, no reference is made to the possibility that course material costs have been covered by some mechanism. Instead, the student is presented with the option to rent a digital text ($60.00 for a text for a sociology course) or buy a used ($90.75) or new ($120.75) text. In addition, there is a link to "Check Availability" followed by the note "To support the delivery of digital content to you, a non-refundable digital delivery fee will be applied to each digital material added to your bag. The digital deliver fee per unit is $3.99."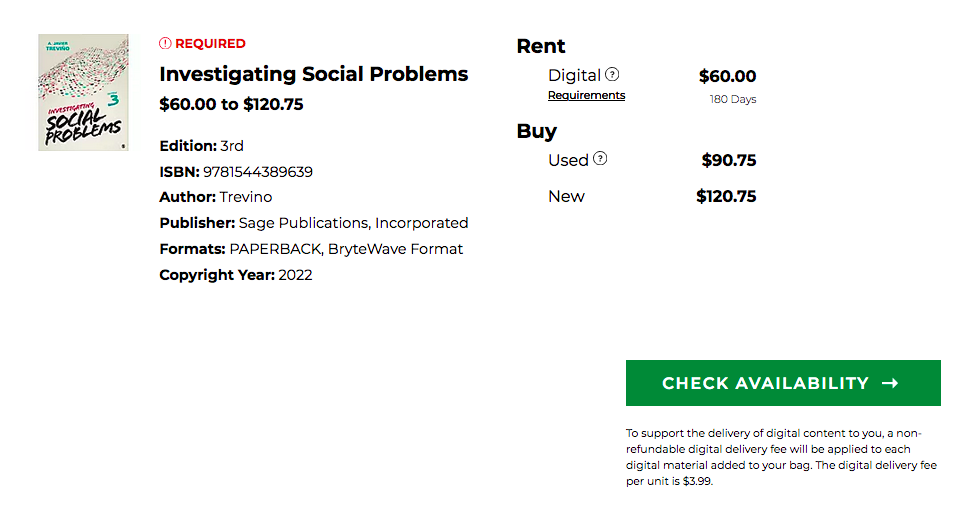 This page last updated January 12, 2022.